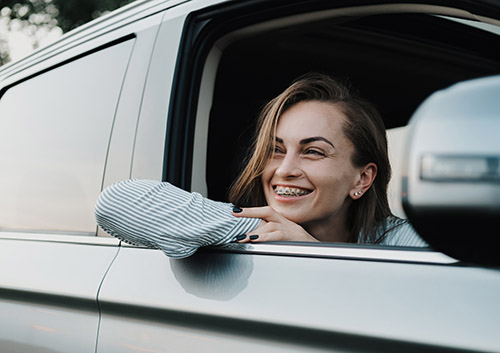 Whether you've chosen traditional braces or invisible aligners, congratulations! You've taken the first step on your way to a beautiful, healthy smile. Of course, like every other journey, a good start helps you get where you're going as quickly and easily as possible. And the best way to start your orthodontic journey at Diaz Orthodontics is with a visit to your dentist for a checkup and a cleaning.
Dr. Diaz and our team will want you to make sure your teeth and gums are healthy before you begin. A complete dental exam will let you know if you have any dental conditions that need to be addressed before you get braces or aligners. Why be proactive? Because if you need dental work during your orthodontic treatment, it can cause delays in your treatment plan.
Cavities grow over time and can eventually reach the inside of the tooth, causing infection and damaging the pulp. For this reason alone, it's best to find and treat cavities before you get braces or aligners.
If you're wearing braces when a cavity's discovered, the situation gets a bit more complicated. Your dentist might be able to work around your braces if the cavity is easy to reach. But if a cavity's near your brackets, Dr. Diaz might have to remove a wire or bracket before treatment can start. This means scheduling different appointments to a) remove a section of your braces, b) repair your cavity, and c) replace your bracket and/or wire. See what we mean? Definitely more complicated.
While serious gum disease is most common in adults, children and teens can suffer from early-stage gum disease. Your gum health affects your orthodontic treatment—and can be affected by it, too—so your gums need to be healthy before you begin wearing braces or aligners.
Early gum disease can frequently be reversed with careful brushing and flossing habits. Because advanced gum disease weakens the bone under the teeth, patients with this kind of gum disease will need dental or periodontal treatment before any orthodontic work.
Once you've made sure your teeth and gums are healthy, there's one more proactive step you can take for a better orthodontic experience. Whenever you're at the dentist for an exam, it's always a good idea to get a professional cleaning. It's especially important when you're getting—or wearing—braces.
Even with the most dedicated everyday brushing and flossing, plaque and tartar can build up, especially between and behind the teeth. A professional cleaning by an expert is just what you need to remove any plaque or tartar that you've missed before you start wearing braces or aligners.
And keep up with professional cleanings while you're in treatment. It can be difficult to clean around brackets and underneath wires. Your dental team knows how to gently and thoroughly clean plaque from these hard-to-reach spots. In fact, Dr. Diaz and your dentist might recommend that you have your teeth cleaned more often while you're wearing braces.
Your Best Bonding Experience
If you're getting metal brackets, ceramic brackets, or lingual braces, your brackets will be applied to your tooth enamel with a special bonding glue. Applying brackets to teeth that are their cleanest will start you off with the best possible bond.
If you need dental work while you wear braces, we can certainly accommodate that. But why make life more difficult? See your dentist for a cleaning and an exam and get any necessary dental treatment before you get your braces at our Orlando, FL orthodontic office. The easiest journey to a lifetime of beautiful, healthy smiles begins with a good start!