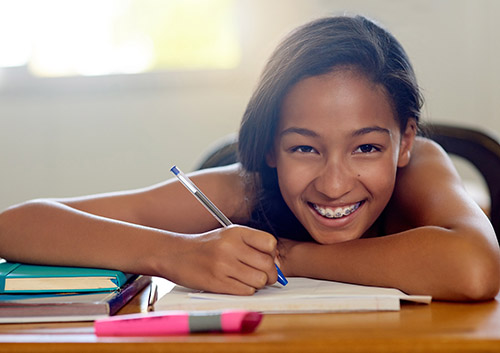 What do you imagine when you picture an orthodontic office? Do you see a steady stream of teenagers walking through the doors? Teen magazines in the reception room? Backpacks stowed under every chair? If so, we have an update for you.
In today's office, you'll find grade school kids, teens, and adults (and children's books and games, and even the occasional golf magazine). Today's orthodontic patients are more diverse than ever before!
Why? Because today, more than ever, more of us can benefit from orthodontic treatment.
Young Children
Even before a child's adult teeth come in, a visit to Diaz Orthodontics is a good idea. In fact, dentists and orthodontists recommend an orthodontic exam around the age of seven for every child.
Early intervention can make sure that there's enough space for those incoming permanent teeth and can help correct jaw alignment problems for a healthy bite.
Palatal expanders can gently enlarge a small upper dental arch to make room for adult teeth.
Space maintainers will save room for an adult tooth to erupt in just the right spot if a baby tooth is lost too early.
Treatment for malocclusions like overbites, open bites, and underbites while young bones are still growing helps create a more comfortable, healthy bite and may prevent more complicated treatment in the future.
Older Adults
If you've always wanted straighter teeth or a pain-free bite, don't let an imaginary age limit prevent you from getting orthodontic treatment! As long as your teeth and gums are healthy, orthodontic treatment is a terrific way to keep them healthy.
If you have painful bite issues which have never been treated,
If you've always wanted straighter teeth,
If your teeth have become more crowded over time,
there's no time like the present to start working toward the smile you've always wanted.
Bonus: new technology in braces and aligners makes orthodontic treatment more subtle and discreet than ever before.
Traditional braces—brackets are smaller than ever, and come in a choice of several materials and colors, including ceramic brackets and tooth-colored and clear brackets.
Lingual braces—the least visible treatment, because brackets and wires are attached behind the teeth.
Clear aligners—a removable and almost invisible way to straighten teeth.
Tweens & Teens
Teenagers still make up the majority of patients in orthodontic treatment. Orthodontists often recommend starting treatment between the ages of ten to 14, because:
Most of the adult teeth have come in, so problems with crowding, spacing, or crooked tooth alignment can be diagnosed and corrected.
The jawbone is still growing, and the bone is not as dense, so it can be easier to realign teeth and jaws for straighter teeth and a symmetrical bite.
Today's treatment choices offer more options and are more effective than ever before. Depending on a teen's orthodontic needs, Dr. Diaz might suggest:
Traditional braces or aligners
Elastics (rubber bands) used with braces to bring the upper and lower teeth into alignment.
Functional appliances—together with braces or aligners, appliances like the Herbst® appliance, the Forsus™ device, the twin-block appliance, and headgear can work inside and/or outside the mouth to help correct problems with tooth and jaw alignment.
It's no longer just the middle school and high school crowd you might meet in your orthodontist's waiting room. Children, teenagers, and adults can all benefit from orthodontic treatment at our Orlando, FL office. If someone in your family is one of those people, give your orthodontist a call to see just what orthodontic treatment can offer. Welcome in!